Join me on Saturday, June 12th for our first-ever World Wide Knit In Public Day (WWKIPD)!
In case you're unfamiliar with the day, each year this event is put on by shops and regular ol' stitching groups alike as a fun excuse to get together and show the world we're makers! In past years, prior to opening the shop, I've attended a few myself and they're always fun, and I'm really excited to be able to host my very own this year and share the fun with you all!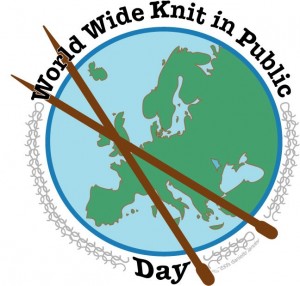 Here's how it works: Drop in anytime between 10am and 5pm to sit and stitch a bit. Whether you knit, crochet, spin, weave, or embroider/cross-stitch, you're welcome! Bring a chair with you, if you're so inclined, and sit in our outdoor breezeway coming into the shop and knit, or if you prefer the air conditioning you can sit in the Maker Space!
Why you should attend: Throughout the day, we're going to be offering door prizes to attendees AKA free stuff for just hanging out and knitting. You might win some fun stitch markers from A Hare Affair, a fun embroidery or cross-stitch kit, a gift card to one of the local restaurants, or (of course) even some yarn! Prizes will be given out to the lucky winners throughout the day, but you can only win once so we can spread the WWKIPD love around to all of our fellow makers!
Can't make it that day but want to participate in the prize fun? Place an order online on June 12th, 2021 and you'll be entered to win a free skein of Superfine Yarn Co yarn! The winner will be drawn at random from all the orders that day, and prize yarn will be shipped with the rest of your order!