It has been a minute since I truly finished anything. Summer days and all of that, I suppose, but the itch to knit in anticipation of autumn and winter weather has me picking up my needles a lot more furiously these last few weeks. I am, decidedly, OVER this summer heat. August is here, my kiddo goes back to school in a few weeks, and I'm eyeing the fall decor aisles at TJMaxx and Home Goods desperately wishing to bring it all home and swath the house in all things orange and gold, with cozy candles and the scent of cinnamon wafting through the house.Or maybe apple pie baking in the oven.
So allow me to tell you all about this Fosette sweater by Devin Ventre/Knitty McPurly I cast on and then binge-knit my way through.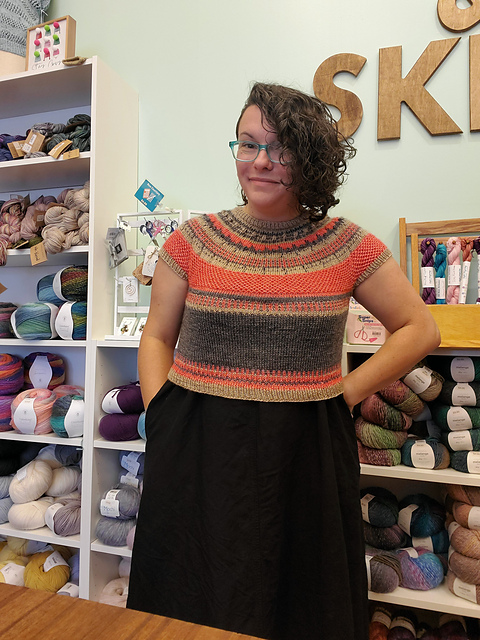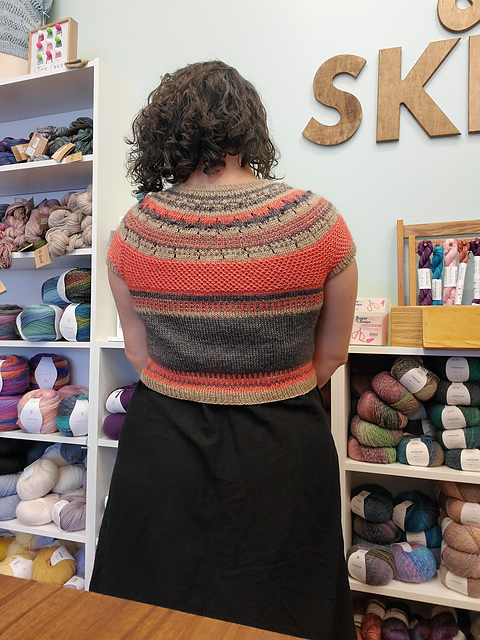 First off, let me say that this sweater looks more complicated than you may think it is! A lot of the rows utilize mosaic knitting, i.e. you're slipping stitches in between knitting stitches so you're still only working with 1 color at a time. There's a few rows where you're doing 2 colors at the same time, but those are minimal. I'd rate this pattern on an intermediate scale, or perhaps a really adventurous beginner that already has a basic top-down sweater knit.
Because of the cropped and short-sleeve nature of the sweater, it uses less yarn than a full-size sweater. It's meant to be worn with little to no ease, so you'll want to pick a size that is close to your bust measurement. (Sidenote: Unsure how to measure yourself? Pop into the shop and I can help!) I knit myself the 4th size, for the 43.25″ bust, and used just 6 skeins of the West Yorkshire Spinners Elements DK yarn – 2 in each color.
The pattern breaks the colorwork down into color A, B, and C. For this version, I used color Golden Sands for color A, Pebble Shore for color B, and Watermelon for color C. If you're built like I am, and have a more narrow waist, then I recommend having your darkest color be your color B – this puts the darkest color at that wide band at the underbust/waist.
Other than having a bunch of ends to weave in that felt unnecessary (seasoned colorwork knitters, you're going to want to read ahead on the pattern and then just carry the yarn up the side instead of cutting), it was a pleasing knit that I can definitely see myself making again, though perhaps with a bit of an extension on the sleeves so they're a little less capped.
Want to make your own?
Grab these colors (or make your own combo) from the online shop! Or pop into the brick-and-mortar and get customized help picking out your colors from yours truly! (Grab your pattern directly from Devin's site here)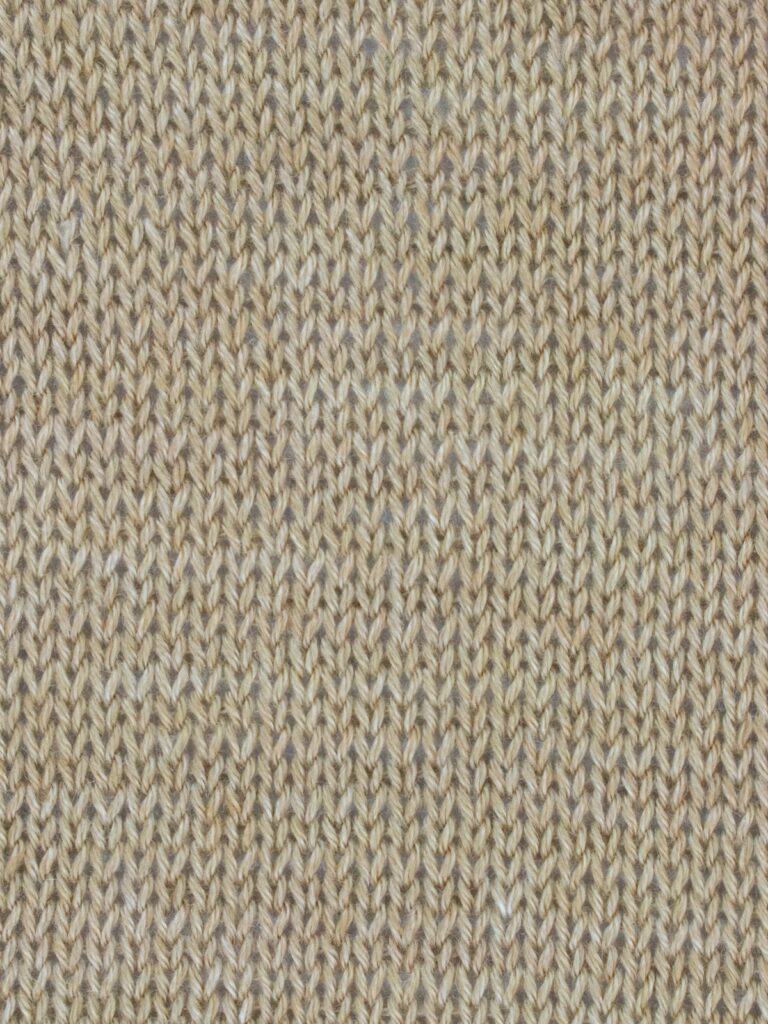 Golden Sands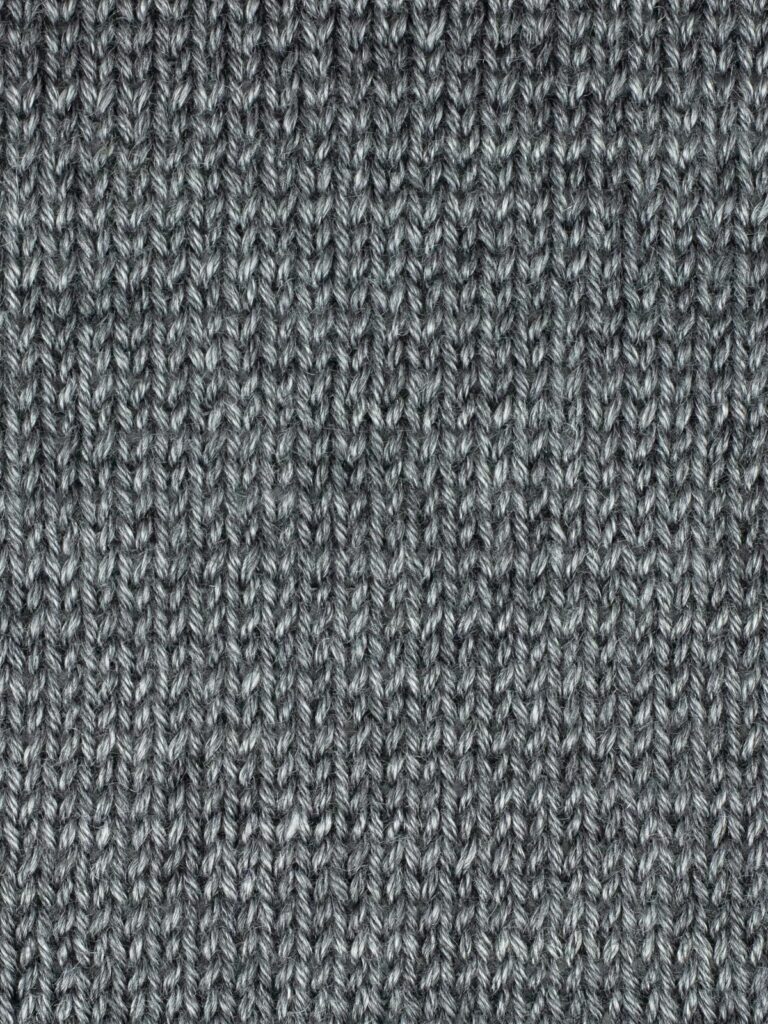 Pebble Shore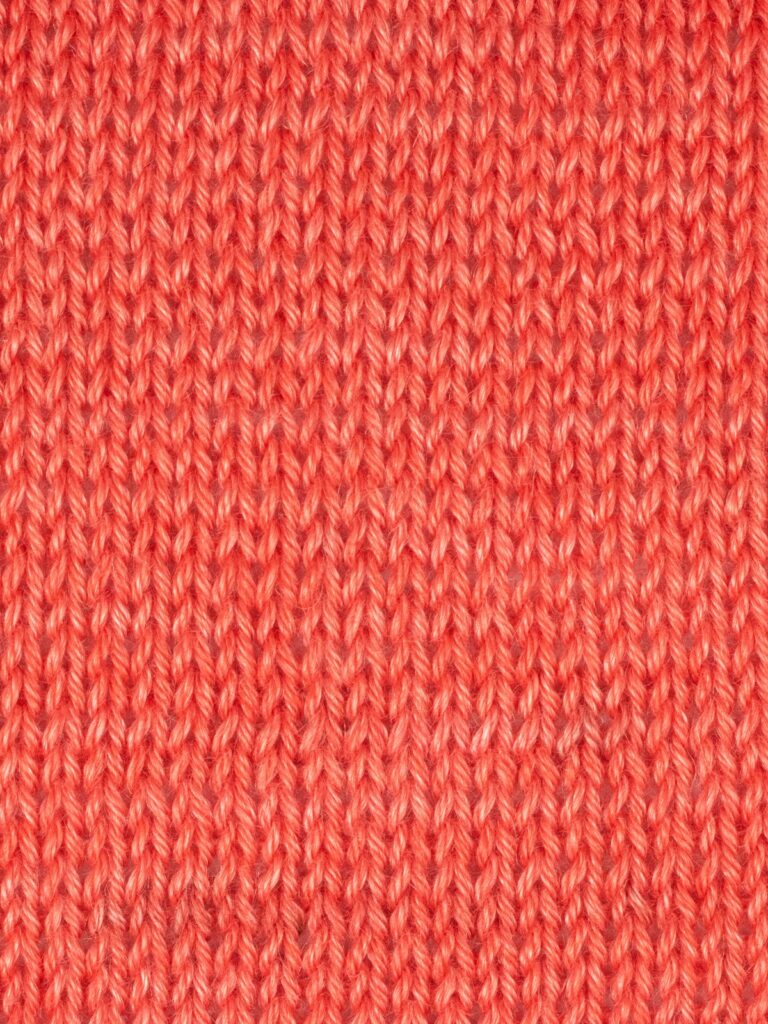 Watermelon